Let's Talk: Labor Day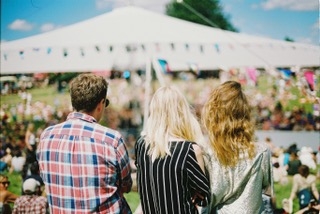 We know you're looking forward to the 3-day weekend coming up, and if you're anything like us you are thinking it's too soon for the unofficial end-of-summer holiday to make an appearance... but, alas, it's true. Labor Day is right around the corner. So, what is the history of Labor Day anyway? According to the U.S. Labor Department: Labor Day, the first Monday in September, is a creation of the labor movement and is dedicated to the social and economic achievements of American workers. It constitutes a yearly national tribute to the contributions workers have made to the strength, prosperity, and well-being of our country. Here's to working your ass off and getting a day to celebrate your dedication to the daily grind.
With a handful of events happening on Labor Day weekend, there are a few that you will miss entirely if you wait too long. To avoid that potential tragic wake up call, we have picked some of our favorite events that we think you should def check out! If you don't like our choices feel free to look for more inspiration on the City of Denver's website.
WHEN: May 29–Sept. 3, 2018
WHERE: Denver Art Museum
Music and Rocking chairs? Yea, an entire interactive are exhibition located right outside of the Denver Art Museum in the Hamilton Building that combines music and rocking chairs! I mean, purely out of curiosity we think this one should be checked out.
COLORADO ROCKIES VS. SAN FRANCISCO GIANTS
WHEN: Sept. 3–5, 2018
WHERE: Coors Field
The San Francisco Giants vs. our Rockies always makes for a fun day at the ballpark! It's a 3-day series, so you have a few options to pick from. With the Rockies trying to win the pennant for the first time in team history, the environment at these games will be loud and exciting! Don't miss out on the fun!
FIREWORKS AT ELITCH GARDENS THEME & WATER PARK
WHEN: Sept. 2, 2018
WHERE: Elitch Gardens Theme & Water Park
This amazing Denver downtown amusement park show only happens a few times a year, and with Elitch's big move out of the city here in the next few years, this is becoming a no-brainer! Spend the day riding the roller coasters and cool off at the at Elitch Gardens Theme & Water Park. Then watch a brilliant firework display light up the night sky, starting at dusk. (They serve alcohol these days so you can also get a nice buzz while you are having some fun, if you're into that kinda thing).
WHEN: Aug. 24–Sept. 3, 2018
WHERE: Pueblo, Colo.
Load up the kids and head further afield to the Colorado State Fair in Pueblo for carnival rides, livestock and horse shows, parades, country concerts, an arts exhibition, a fiesta weekend and one of the largest pro rodeos in the country. Get out of the city for a minute, enjoy the drive and see everything the State Fair has to offer. We see turkey legs and fried twinkies in your future...
WHEN: Aug. 31, 2018
WHERE: Sports Authority Field at Mile High
This annual rivalry game between the University of Colorado Buffaloes (Go Buffs!) and the Colorado State University Rams is the perfect start to your holiday weekend. Head down early to tailgate for a bit before the game. (Did you know CU has won 65 of the 89 games in the Rocky Mountain Showdown series? They also maintain the largest victory at 67-0 and they also had the longest winning streak of 12 games. Not that we have a favorite or anything, but, GO BUFFS!)
WHEN: Sept. 1–3, 2018
WHERE: Civic Center Park
OK, so this one you don't have to get in before Labor Day, but this event is a staple! A Taste of Colorado stands proud as the end-of-summer celebration of community pride and spirit in the Denver region. Over 500,000 people make the four-day festival their Labor Day Weekend celebration, enjoying the offerings of more 50 area restaurants, 275 marketplace artisans and vendors, six stages and educational programs promoting the diverse cultural and Western heritage of the region. What more could you want?